All the products sold on this website are digital. Immediately after you purchase, you will receive an email with instructions on how to access your products. Don't forget to check your spam/promotions folder. Physical books are available at Amazon.
View full details
Description
What does the Praxis PLT Online course consist of?
Our PLT course is aligned to the test blueprint and specifications and contains hours of video content, practice test questions, and activities. The course also comes with the Praxis PLT digital study guide.
You purchase the course based on grade level. We do not recommend buying multiple online courses. Instead, just purchase the one specific to the grade level for which you are seeking certification. 
PLT 5621 - Early Childhood (Pre-K-3)
PLT 5622 - Grades K-6
PLT 5623 - Grades 5-9
PLT 5624 - Grades 7-12
Each course includes:
Full PLT Study Guide (Digital)
28 digital lessons with individual modules for each content category of the exam. 

Video tutorials for each content category
Test taking strategies you can use for scenario questions
Practice test questions and detailed answer explanations
Comprehensive writing practice for the constructed-response questions: two prompts and two example essays
Copyright Information
Digital courses are for one user only. Sharing login or account information for LMS.kathleenjasper.com with other users is a violation of our copyright. Online course enrollment can NOT be transferred from one user to another. Once a user purchases an online course, the course belongs to that user based on name and email. 
Is the Praxis PLT hard to pass?
The Praxis PLT can be quite challenging, especially if you are new to teaching. The exam covers content in the areas of human development, learning processes, instructional processes, diverse learners, educational psychology, and professional issues.
Unfortunately, first-time pass rates for many Praxis exams are less than 50%, so it's very important you do not underestimate the test.
In total, there are 70 selected-response questions and four constructed-response questions on the exam. Constructed-response questions require you to write short essays in response to classroom scenarios. Some of these questions require you to analyze data and make instructional decisions based on that information.
You will have a total of two hours to complete the exam.
There are five sections to the Praxis PLT. The first four sections are selected-response questions. The final section is the constructed-response portion of the exam.
You cannot simply memorize content and recall information on test day. Instead, it's important to fully understand all of the content and skills assessed on the exam and then apply those skills to the scenarios on the test.
But fear not! Our online course covers it all.
How many questions do I have to get right to pass the Praxis PLT?
It is difficult to predict exactly how many questions you must get correct to pass the Praxis PLT because a scale score is used rather than a raw score. This means that your raw score–how many you got correct–is put into a formula to calculate a scale score.
To keep things simple, we recommend scoring at least a 75% on the practice tests before you go in to take the exam. Getting 75% of the questions correct when you practice indicates you are ready to take the actual test.
For the constructed-response portion of the exam, scoring gets more complicated. Constructed-response questions are scored by trained educational professionals. Two scorers will independently rate each of your written responses, and a third will weigh in if the two graders do not agree within one point. The selected-response part of the test is worth 75% of the overall score, and the constructed-response portion is worth 25% of the overall score for the Praxis PLT.
If you would like to learn more about how Praxis exams are scored, check out this blog.
Does the online course have the same questions as the real exam?
While our online course is aligned with the test, it is against testing policy to share items on the actual exam. State tests are secure, standardized, and heavily regulated.
There are hundreds of test questions in the item banks for each exam. When you take the exam, your version of the test will be different from other versions and will have questions randomly pulled from the item banks. This ensures test security, validity, and reliability. Trying to memorize what you think will be on your test is an exercise in futility. Instead, you should study the skills and content outlined in the specifications and blueprint of the exam.
Everything in our course is aligned with the test specifications and blueprint for the exam. That way, you can review how the test is designed and what skills are assessed. The questions in our study guide are structured similarly to what you will encounter on test day, but they are not the same exact questions on the real exam.
Is this the best resource for the Praxis PLT?
Obviously, we believe our online course is the very best resource you can purchase to prepare for the Praxis PLT. The course has 28 lessons that are sectioned out into categories, and within those categories, we've aligned all of the information with the test specifications and blueprint. This ensures you are studying what you will see on test day–nothing more, nothing less.
In each content category, there are ten practice test questions specific to that section. In addition, our study guide, which is included in the course, contains a full-length practice test with detailed answer explanations. This ensures you understand why you got something correct or incorrect. In all, you'll have hundreds of practice questions to work with.
We sort every practice test question by skill and category. Knowing what skill the questions assess is a huge benefit to your studies.
We also provide comprehensive constructed-response preparation with writing prompts and sample essays, so you can evaluate your writing, which is essential to be successful on this exam.
Finally, we provide a reference section with a Good Words List to look for in the answer choices, so you can quickly identify the correct answers and eliminate incorrect answers.
Does the online course contain practice test questions?
Yes. Not only are there online questions throughout the course, but there is also a full-length practice test at the end of the digital study guide included in the course. We also provide you with mini-practice tests at the end of each content category. All of the questions are categorized by skill and contain detailed answer explanations. We also include comprehensive writing practice for the constructed-response section of the exam.
How long should I study for the Praxis PLT?
People have a range of skills and abilities, so it is difficult for us to give you a specific number of days or hours you should spend on your studies. This exam covers expansive content for each section of the test, so we recommend short, incremental practice over time. This is much better than cramming all of your studying into one or two weekends.
We believe 20-30-minute study sessions over a 1-2 week period is ideal.
You will also need time to practice your writing for the constructed-response section. We have several writing prompts for you to practice with, and we provide the test specification, blueprint, and constructed-response scoring rubric, so you can evaluate your writing as you prepare.
Should I buy more than one grade level of the course?
No, much of the content is the same across all the PLT tests, so we do not recommend buying multiple versions of the course. Just purchase the course specific to your grade level, and you will be getting all the information you need. The courses are virtually the same except for some of the practice test questions. We have provided specific practice test questions based on the grade levels of each PLT (5621, 5622, 5623, and 5624).
What other resources should I use with this online course?
Most states that use the Praxis exams require prospective teachers to pass at least three tests–the The Praxis Core, a subject-area exam, and the Praxis PLT. We have study guides for many Praxis exams.
Depending on the state in which you are seeking certification, this will vary. That's why it is extremely important you check with your state's Department of Education before you purchase test prep materials to determine exactly what tests are required.
Share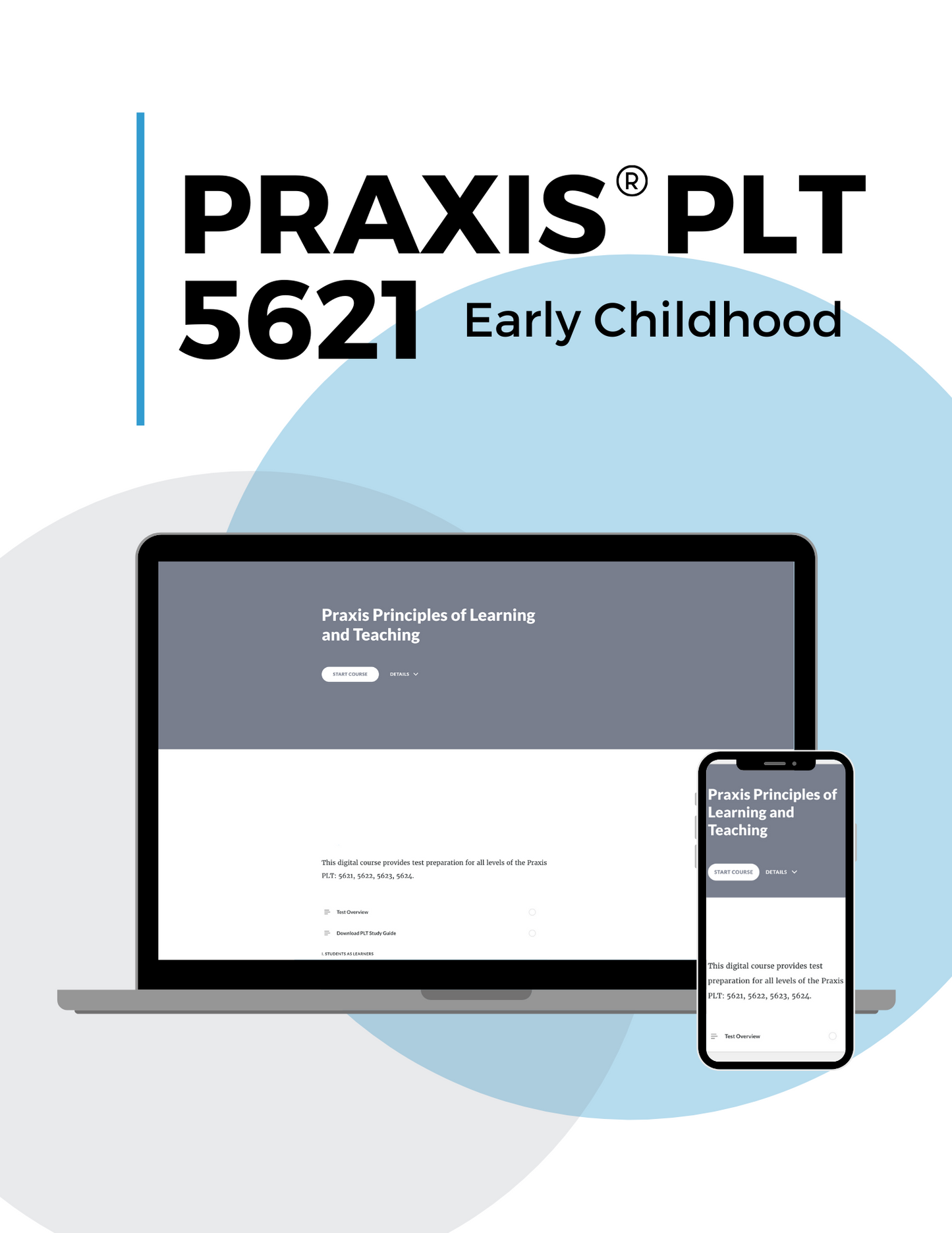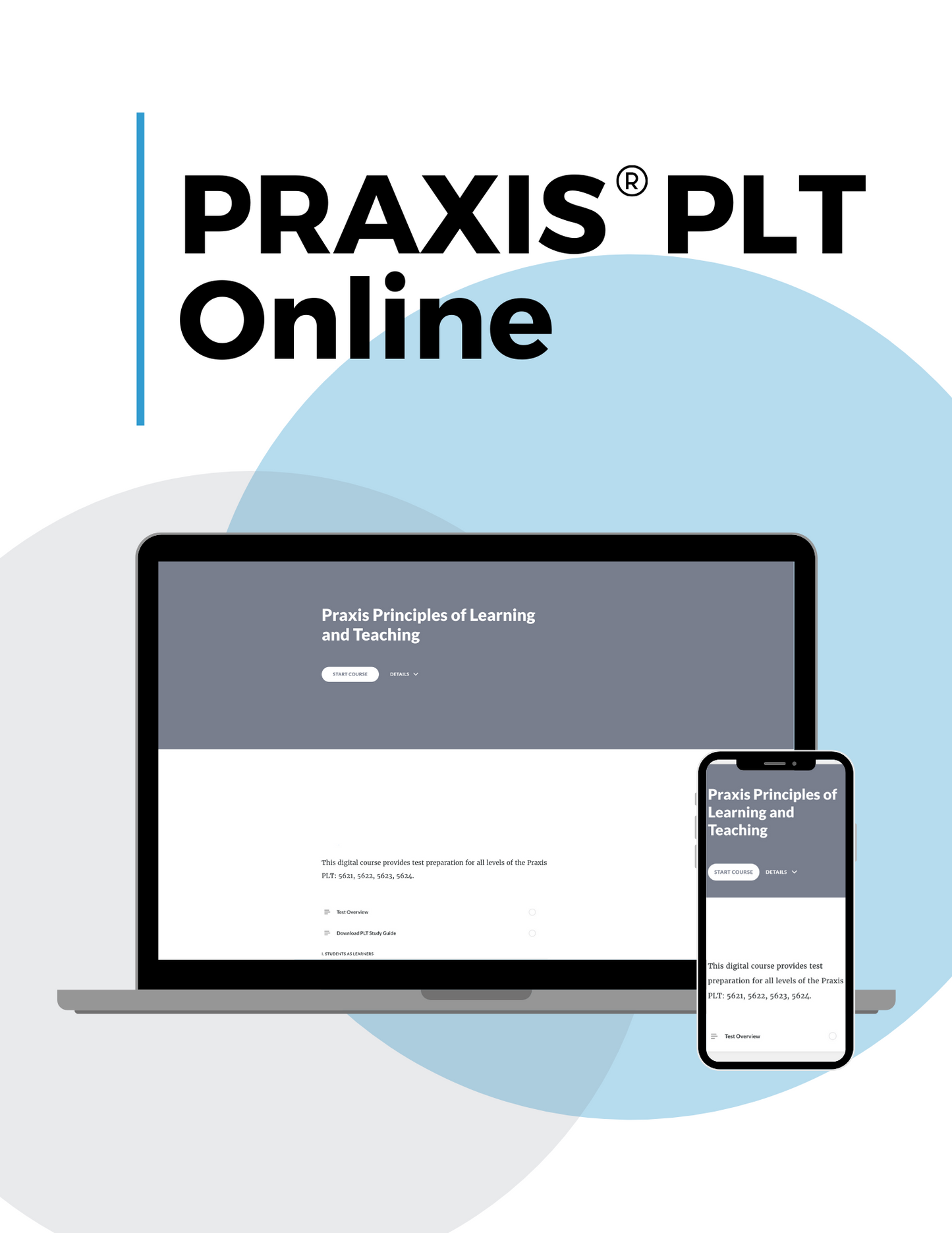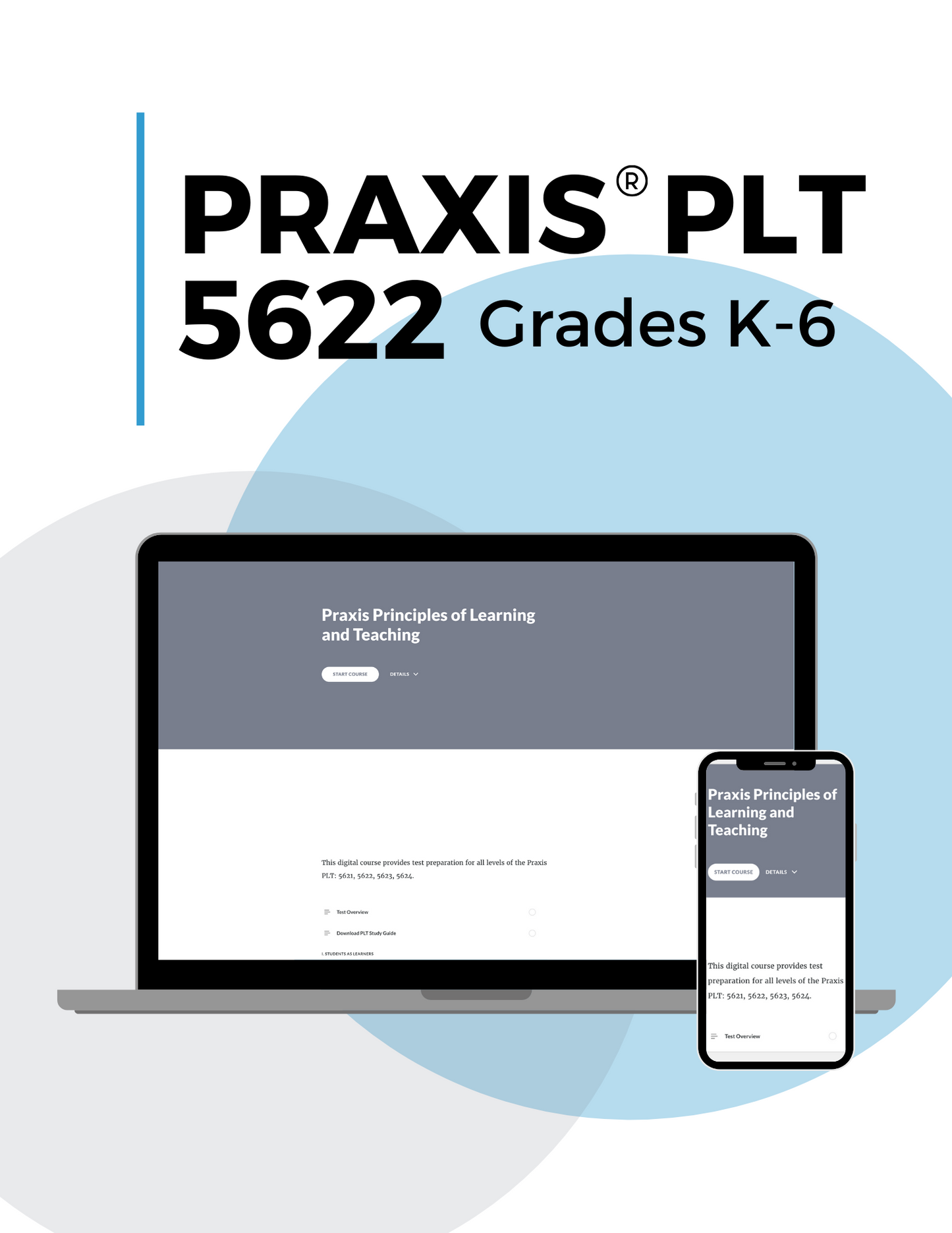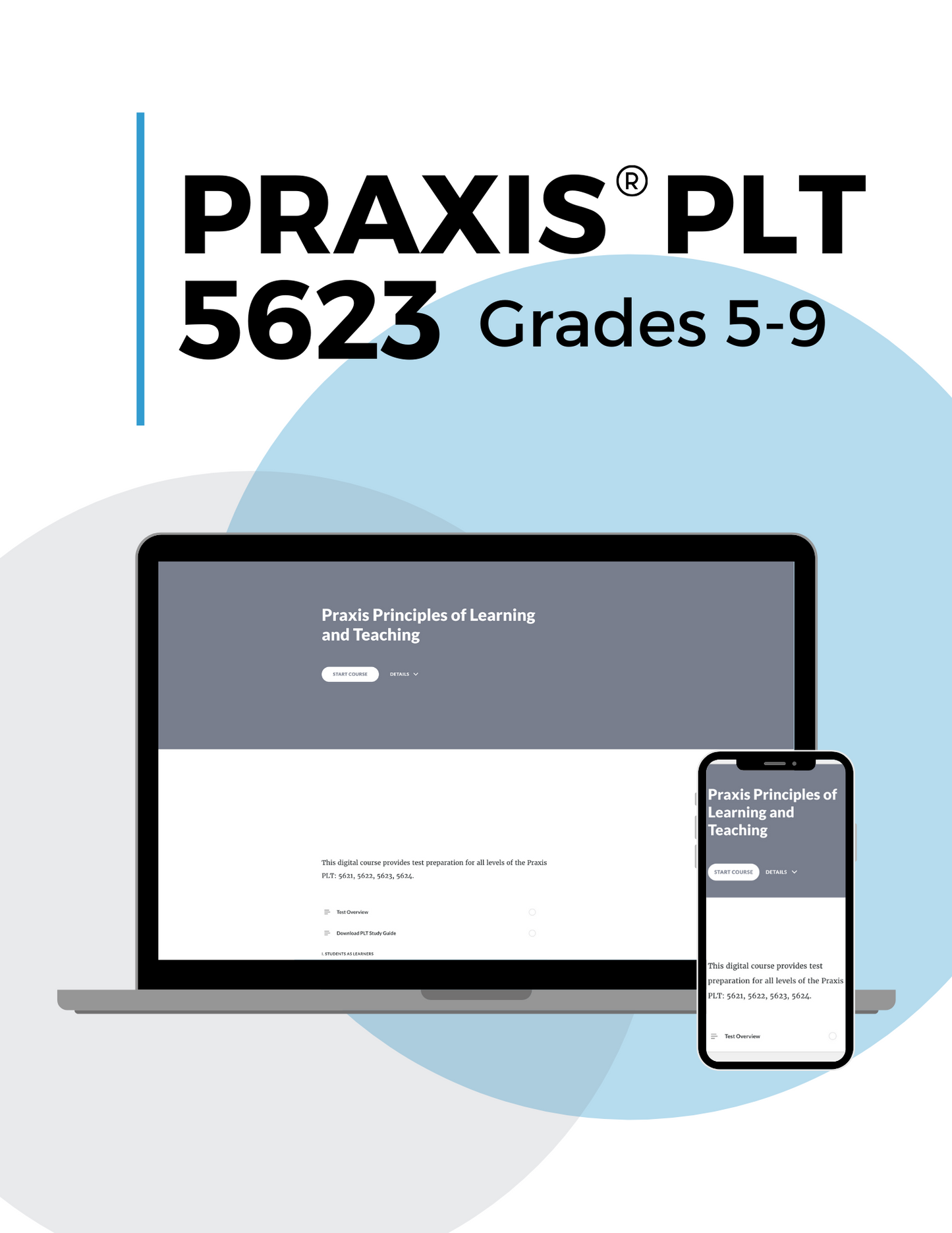 Pretty good
It was definitely helpful. Unfortunately I live in Florida with a different exam. I wish I attended the live webinar. I would like to have a more interactive express with it. It is over all very useful compared to other sources I have used that are guessing what is useful, this one is.
Praxis 5621
I love the online course for Praxis 5621. It was easier to understand than just reading the book. Also, I like how Dr. Jasper gave me examples about different topics related to PLT 5621 which help me understand it.
Great study guide.
I am an audio learner so listening to the videos is very useful.
Highly Recommend
I recently purchased a course to help me for my Praxis 5622 PLT exam. I found the material to be incredibly helpful and beneficial. I opted for the video, audio, and PDF. This helped me study when I could at home, at school/work, or while watching my kids at their soccer practices.
The material helped me understand the test structure, how to better take the exam, and how to efficiently study areas I was weakest in. This knowledge of the test structure and strategies was also helpful when I took another Praxis exam the following week after my PLT exam.
I waited to write my review until I received my score, which I got back this week. I got higher than I had anticipated! I highly recommend Kathleen's course to help study for the Praxis 5622 PLT exam.
Choosing a selection results in a full page refresh.
Opens in a new window.