All the products sold on this website are digital. Immediately after you purchase, you will receive an email with instructions on how to access your products. Don't forget to check your spam/promotions folder. Physical books are available at Amazon.
View full details
Description
What does the Praxis 7813 math online course consist of?
This course focuses solely on the math portion for the Praxis 7813. The course consists of a webinar and an accompanying digital study guide. 
A 1-hour 15 minute webinar discussing different problems and scenarios you'll see on the exam.
PowerPoint slides that go with the webinar
Our Brand New Praxis 7813 study guide aligned with the test specifications and blueprint.
Is the Praxis 7813 hard to pass?
This exam not only tests your ability to do math, but it also tests your ability to teach math. Questions on this exam are lengthy and are scenario-based. You will have to understand the correct way to complete math problems and even the correct processes students must use in the classroom.
But fear not This course covers it all.
How many questions do I have to get right to pass the test?
It is difficult to predict exactly how many questions you must get correct to pass because a scale score is used rather than a raw score. This means that your raw score–the number of questions you get correct–is put into a formula to calculate a scale score.
To keep things simple, we recommend scoring at least a 75% on the practice tests before you go in to take the exam. Getting 75% of the questions correct when you practice indicates you are ready to take the actual test.
If you would like to learn more about how Praxis exams are scored, check out this blog.
Does the course have the same questions as the real exam?
While our online course is aligned with the test, it is against testing policy to share items on the actual exam. State tests are secure, standardized, and heavily regulated.
There are hundreds of test questions in the item banks for each exam. When you take the exam, your version of the test will be different from other versions and will have questions randomly pulled from the item banks. This ensures test security, validity, and reliability. Trying to memorize what you think will be on your test is an exercise in futility. Instead, you should study the skills and content outlined in the specifications and blueprint of the exam.
Everything in our course is aligned with the test specifications and blueprint for the exam. That way, you can review how the test is designed and what skills are assessed. The questions in our course are structured similarly to what you will encounter on test day, but they are not the same exact questions on the real exam.
Does this online course come with practice tests?
Yes. There are full practice tests in the study guide that accompany the course.
How long should I study for this exam?
People have a range of skill levels when it comes to math, so it is difficult to predict exactly how long you should study. However, we recommend short, incremental practice over time. This is much better than cramming all of your studying into one or two weekends.
We believe 20-30-minute study sessions over a 1-2 week period for this exam is ideal.
Share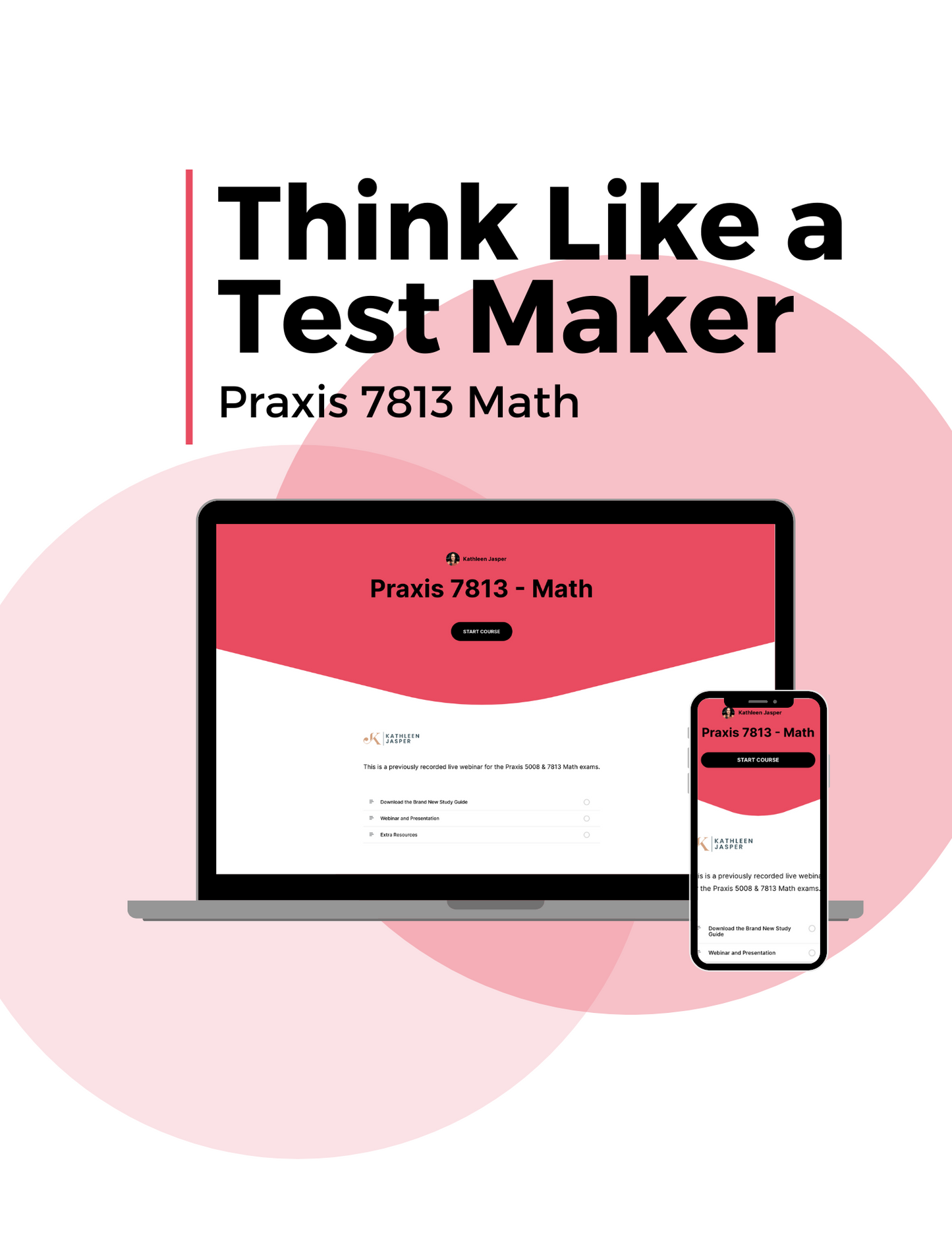 Praxis 7813 - MATH Online Course
Choosing a selection results in a full page refresh.
Opens in a new window.