All the products sold on this website are digital. Immediately after you purchase, you will receive an email with instructions on how to access your products. Don't forget to check your spam/promotions folder. Physical books are available at Amazon.
View full details
Description
What does the Think Like a Test Maker ESOL/ESL online course consist of?
This online course will help you pass many ESOL/ESL teacher certification exams and is aligned to the following tests:
Praxis ESOL 5362
TExES ESL 154
MTEL ESL 54
With a comprehensive webinar and over 300 practice test questions with detailed answer explanations, this course is all you need for any ESOL/ESL test.

This online course includes:
Full-length webinar that covers everything on the exams. You can also use this as an audio course.
PowerPoints and resources that go with the webinar.
Full digital study guide with practice tests.

Detailed sections for every content area of the exam, so you understand everything covered on the test.
10 practice test questions after each objective, so you can practice the specific skills for each type of test question you'll see on the exam.
Detailed answer explanations for every test question in the study guide, so you know exactly why you answered correctly or incorrectly.
Multiple scenarios and explanations similar to the ones you will see on the exam, so you are prepared for complex questions on test day.
Test tips and strategies specific ESOL and ESL exams used all over the country, so you can

 

think like a test maker and pass your first time.
A

 

Good Words List

 

to reference, so you can quickly identify the correct answers and eliminate incorrect answers.
Reference pages for even more information.
Constructed response practice, so if your state requires it, you are prepared for the writing.
Is the ESOL/ESL test hard to pass?
Teacher certification exams in this area can be quite complicated. Not only will you have to understand how to teach students whose first language is not English, but you will also have to understand fundamental reading and writing skills students need to be considered proficient. Therefore, it is very important that you take the time to prepare properly for this exam.
In addition, ESOL/ESL certification exams are scenario based, meaning you will have to read situational questions and identify best practices. If you are new to teaching, this can be very challenging.
But fear not! Our online course covers it all!
How many questions do I need to get right to pass my ESOL/ESL test?
It is difficult to predict exactly how many questions you must get correct to pass standardized test because a scale score is used rather than a raw score. This means that your raw score–how many you got correct–is put into a formula to calculate a scale score.
To keep things simple, we recommend scoring at least a 75% on the practice tests before you go in to take the exam. Getting 75% of the questions correct when you practice indicates you are ready to take the actual test.
Does the online course have the same questions as the real exam?
While our online course is aligned with the test, it is against testing policy to share items on the actual exam. State tests are secure, standardized, and heavily regulated.
There are hundreds of test questions in the item banks for each exam. When you take the exam, your version of the test will be different from other versions and will have questions randomly pulled from the item banks. This ensures test security, validity, and reliability. Trying to memorize what you think will be on your test is an exercise in futility. Instead, you should study the skills and content outlined in the specifications and blueprint of the exam.
Everything in our course is aligned with the test specifications and blueprint for the exam. That way, you can review how the test is designed and what skills are assessed. The questions in our study guide are structured similarly to what you will encounter on test day, but they are not the same exact questions on the real exam.
Is this the best resource for the ESOL/ESL exam?
Obviously, we believe our online course is the very best resource you can purchase to prepare for your ESOL/ESL test. The course is a full, two-hour webinar that covers everything on the exam. It also includes the full study guide, which is sectioned out by content categories, and within those categories, we've aligned all of the information to the test specifications and blueprint. This ensures you are studying what you will see on test day–nothing more, nothing less.
There are practice items that align specifically with the skills you just studied, so you can see exactly what a question for that skill or content will be like on test day. In addition, we have detailed answer explanations for every question in our study guide.
The constructed-response section writing prompts for you to practice with. We also include example essays you can reference and see what a thorough and complete essay looks like.
Does the online course contain practice tests?
Yes. The online course comes with the study guide, which contains two full-length practice tests with detailed answer explanations. In addition, there are mini practice tests at the end of each section of the book.
How long should I study for the ESOL/ESL test?
People have a range of skill levels when it comes to this test, so it is difficult for us to tell you exactly how long you need to study. Because this test covers an expansive amount of content, we recommend short, incremental practice over time. This is much better than cramming all your studying into one or two weekends. Using 20-30-minute study sessions over a 2-3 week period is ideal.
If your test has a constructed response section, we also recommend you spend some time practicing your writing skills for this test.
Why does this online course cover multiple ESOL/ESL tests?
Most ESL/ESOL teacher certification exams test the same skills and content. Therefore, we decided to build one course that covers it all. This course will help you pass any ESL/ESOL teacher certification exam.
Share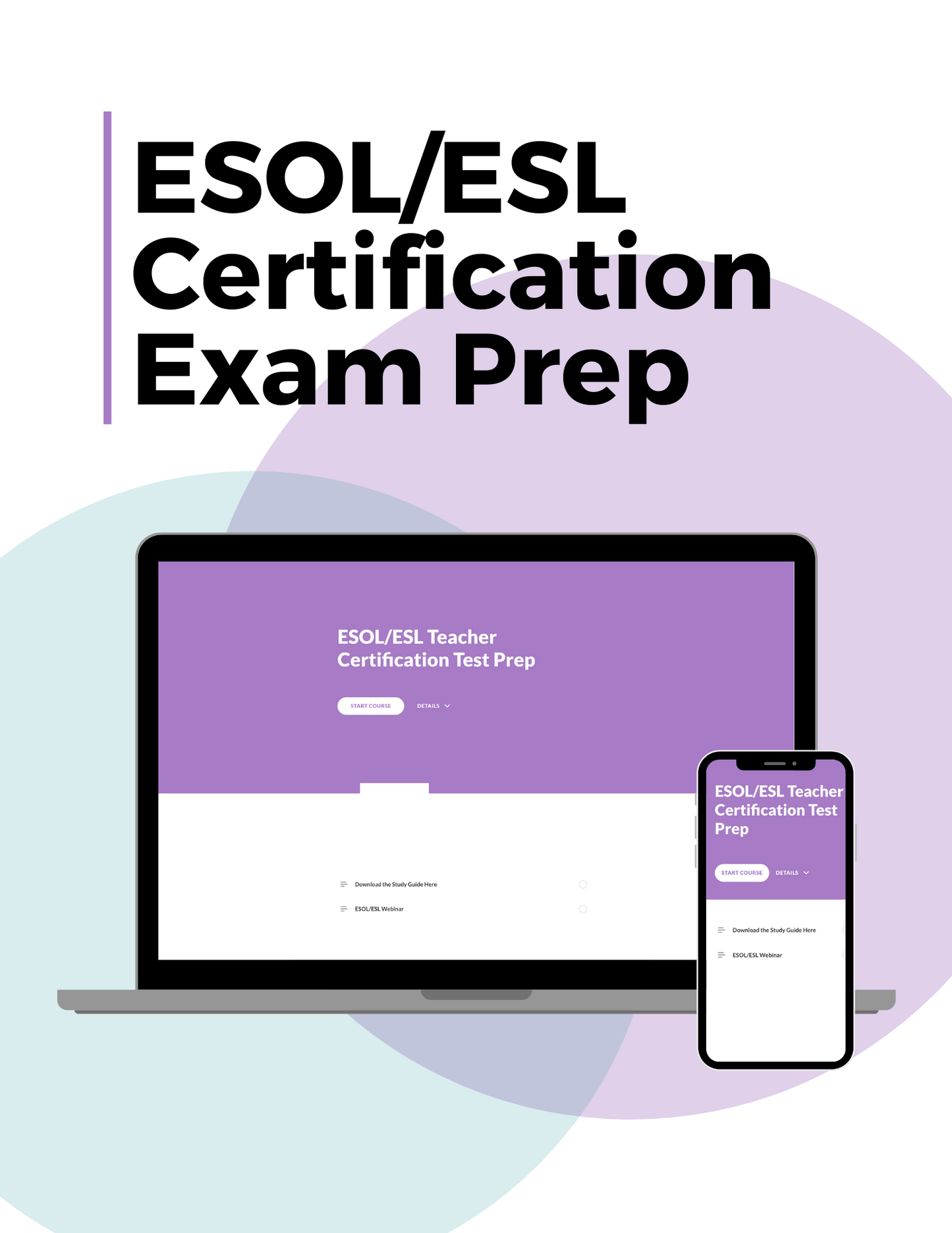 Great Resource
Thank you so much for the valuable resources that you shared in the webinar and the study guide. It's still missing more writing samples and other test related points. Note: I'm taking the test in California.
ESOL/ESL
So glad I found Kathleen's study guide. This was my 3rd time taking this exam. After, I used her study guide I passed by 25 points. Very laid out and easy to follow. Thank you Kathleen!
ESOL
Thank you for helping me pass the first time taking the test! The working backwards method really helped!
Think Like A Test Taker/ ESOL
I bought the ESL study guide with the Webinar. These resources are exceptional. I passed Praxis 5362 with a passing score of 182 on my first try!
Here are three reasons why I found the materials to be useful:
1 The content is linked with the test specifications.
2. KJ is practical in her explanations.
3. The testing tips are super helpful!
KJ is a Guru in her own rights!
Great study guide. Easy to comprehend.
Choosing a selection results in a full page refresh.
Opens in a new window.